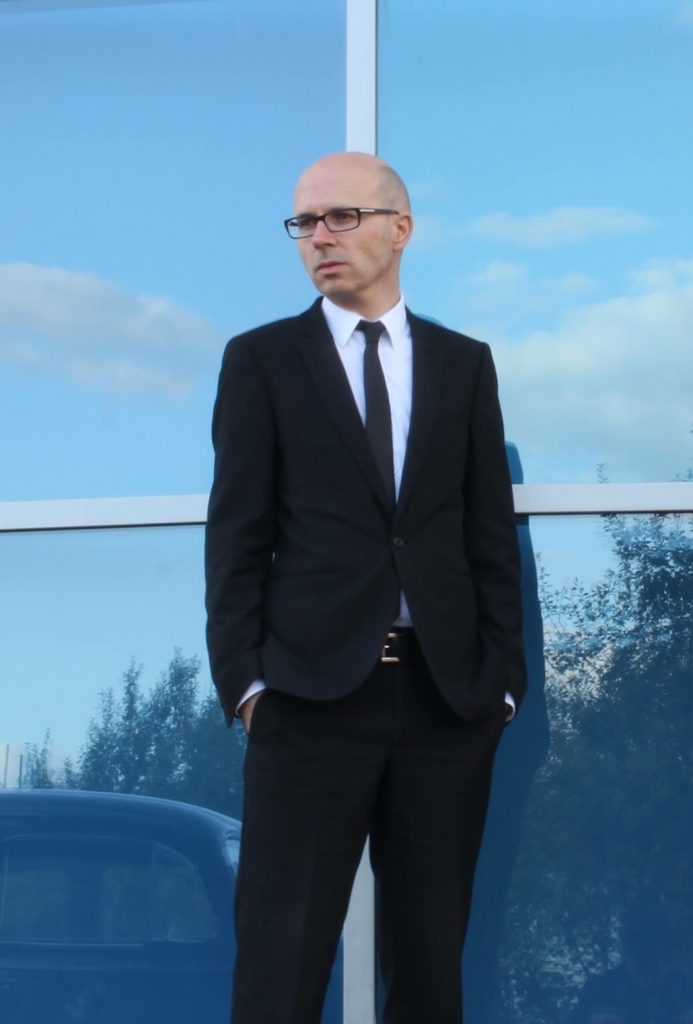 For Part 3 of Home's exclusive interviews with the recently re-formed Nitzer Ebb, we check in with Simon Granger, the art director behind much of NEP's early creative brand presence, designing album covers, band merchandise, and the overall artistic output. In this interview, Simon speaks to Home's Pete about getting back with the boys in both an artistic and, for the first time, a live musical performance capacity.
—–
Home: Can you tell us how you first got involved with Nitzer Ebb?
Simon: We all grew up in the same town of Chelmsford, which is now a city. There were very few places for people who liked alternative music to congregate, so we were drawn to the same record shops and pubs. David, Bon, and Douglas would be roaming the streets on any given Saturday, inevitably drunk, shouting abuse at anyone who was a bit like them, I responded in kind, and this went on for a few months before a friend mentioned that Bon was now in a band that was influenced by DAF and he was looking for a synthesiser. So that was it, I was in, armed with a WASP and with ideas for art all ready to go.
Home:  How does it feel to be back working with the original members?
Simon: Truly excellent, as ever. We have never really been 100% apart, although separated by geography, work and life in general, the connection has always been there; strong, childish, funny, independent and unbreakable.
Home: The Artwork for Belief was simple but incredibly effective, often seen worn on T-shirts by various members of Depeche Mode. Can you tell us how it came about?
Simon: This is my favourite of all the NE designs, the main influencers were Max Ernst, the Dada artist, and the timeless elegance of classic Chanel. Max Ernst was not just an influence because of the work he did, but also for his face, and specifically for his eye, which is on the wrap-around section of Belief. This was shot by process camera from books liberated by myself and Douglas. The spacing of the typeface and sparseness of the design was from Chanel packaging – using a very simple design with high-quality materials, so we had metallic silver ink with reflective spot varnish over the black areas, and the wraparound was designed to cover the barcode, which I thought looked unsightly. This caused problems when distributors were trying to scan the first pressings of the vinyl. Mute was very understanding.
Home: You have never performed on stage with Nitzer Ebb, what will your role be in the new live setup?
Simon: I am contributing a small amount by using live sequencers controlling a Moog DFAM and Minitaur with effects by Eventide. This comes from my role in STARK where myself and David use a mix of live hardware and programming for our live sets. These will be mainly percussive simple patterns and small insistent riffs.
Home: Did you spend much time in the studio with the band over the years, any memories you could share?
Simon: In the early days yes, we were all in the studio together. We would receive a call to be in London around midnight to go into PWL on the end of a previously booked session, usually either Dead or Alive or Kylie, where we would work with Phil Harding through the night, who was using the 48 track SSL to create and mix the tracks. I do remember top-end Acoustic Energy monitors being blown, and someone saying to Phil "You really work with some shit bands." which may have been Pete Burns, or possibly the other Pete, Waterman.
Home: You have been working with David Gooday as "Stark", can you explain your involvement in Stark?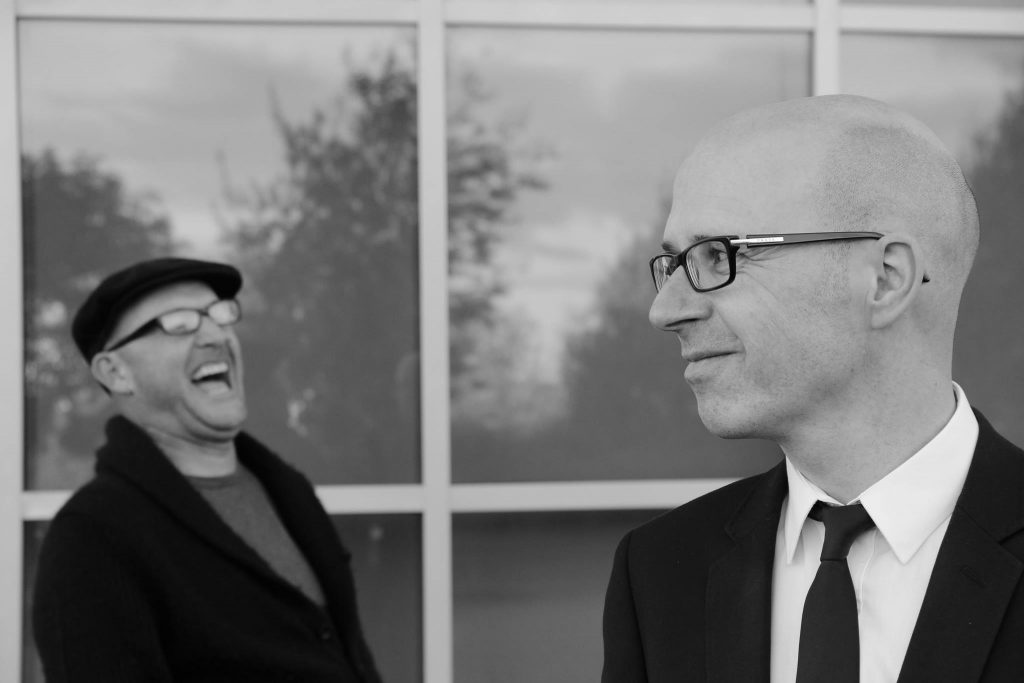 Simon: David was talking prolifically about this for a while and would often phone up and drunkenly play tracks down the phone at colossal volume whilst shouting over the row that I needed to get involved. A short while after, on the way to one of Douglas's weddings, David was playing some music which I thought was excellent, and it turned out to be him that was responsible. So I was in. Again. STARK then evolved to become what we are now, live electronic music, a digital record label Starkfutures Recordings with our friend Paul, a physical record label Stark Editions, and soon, merchandising by Starkthreads. We all run the labels and I do the artwork with David overseeing everything. Musically I control some of the live hardware sequencers and sequencers, which David blends into the overall live experience.
Home: Douglas and Bon spoke of the very close friendship and respect for yourself and David Gooday in a recent promo video – clearly you are all very close, so why has this reunion taken so long to come about?
Simon: It has been a mixture of different projects for all of us for a while, and full time working. Over the last couple of years, we have been seeing more of Bon when he was over from LA. We regularly inflicted STARK on him whenever he was about, and he saw and heard the progress and liked the idea of taking elements of what we were doing and making a reconfigured Nitzer Ebb for now out of it, and, after talking to Douglas the concept became a reality.
Home: Do you still have your old Wasp Synthesizer?
Simon: Ah no – that was the infamous device that helped to kick start everything. I sold it to Bon. It had a good, if erratic sound, coupled with appalling build quality. You could make it play itself by putting water on the touch-sensitive keyboard. I always wanted the Spider sequencer but could never afford it.
Home: The Orange/Black design for Showtime was really eye-catching, again very simple but very effective. The associated T-shirts again were worn by Depeche Mode. Will you be reissuing classic shirts on the new tour?
Simon: We do have a reborn version using elements from That Total Age. There is an all-black-on-grey limited version and a regular red-on-dark grey. I have attached a file showing the limited edition front.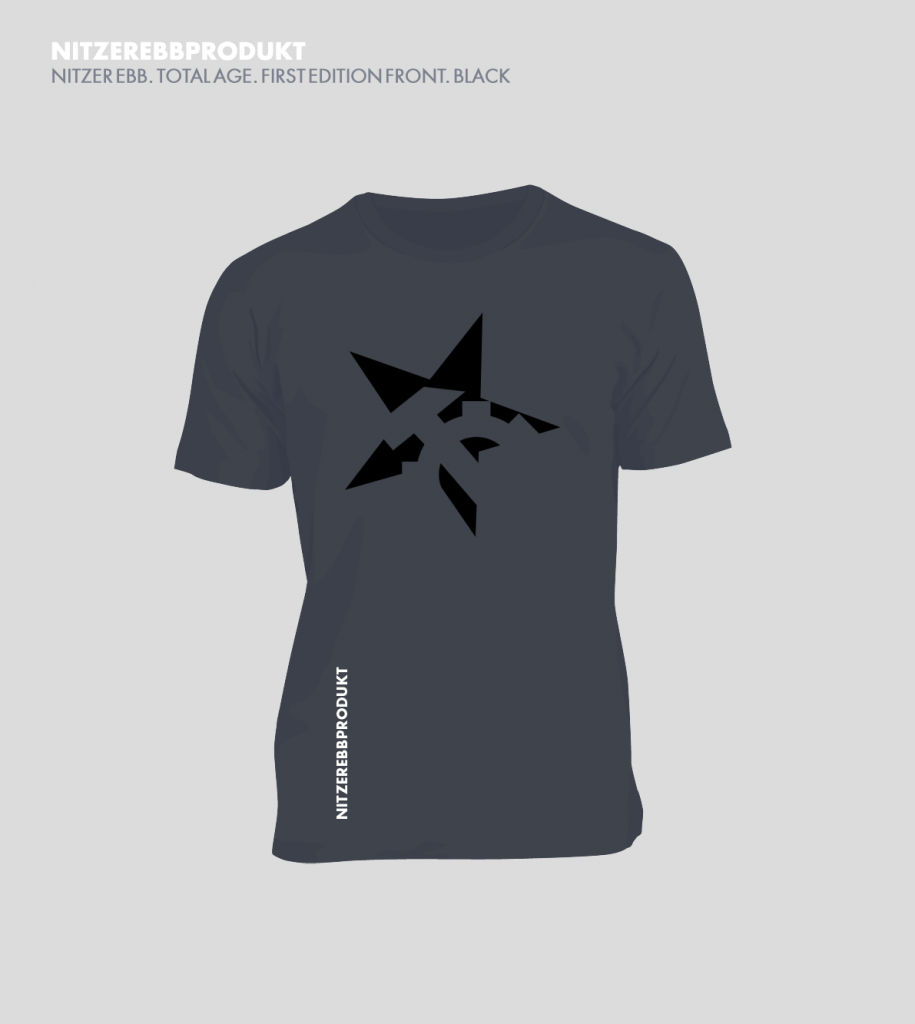 Home: Who decided on the "Nitzer Ebb like their balls empty" text on the infamous 1992 T-shirts?
Simon: That level of wrongness could only come from the combined effort of Steev Toth and Douglas McCarthy I think. I may be wrong. Steev was the NE manager around that time.
Home: How much involvement have you had in the reworking of tracks that will be performed?
Simon: David asked me what kind of thing I would like for a re-engineered Nitzer Ebb. I replied with something along the lines of more space and more of the funk and disco. The tracks have now been opened up so the melodies and countermelodies that live and breathe in Bon's basslines are more easy to hear. Percussion has been enhanced and a low end from techno has been discreetly employed. When David played back what he had done, there was nothing I could even criticise or want to change. It is a perfect evolution. So my role for this has been purely at the annoying 'critical listener' level.
Home: Douglas once showed me a newspaper article in 2010 about the repercussions of a music critic listening to Nitzer Ebb too loudly. Did you ever see this story?

Simon: Yes – it's brilliant – that still makes me laugh.
Home: It was a dream come true for many fans to see Alan Wilder producing Nitzer Ebb, and the finished material was excellent. If the band ventured into the studio again, would you guys be interested in working with Alan if he was up for it?
Simon: That would be a question for the more musical elements of the band, Bon and Doug I think. I don't don't really feel qualified to answer that one. I'm pretty sure they would.
Home: The Tour starts at Electrowerkz in London which is now Sold Out, as is Berlin, are there any further dates to come?
Simon: There are now additional shows in Sweden, [Germany, Poland, Belgium, and the UK], as well as the existing Gothenburg and Stockholm dates – the latest news should be here: http://www.nitzer-ebb-produkt.com/ 
Home: Thanks, Simon.
Simon: Thank you. It was very enjoyable to answer your questions.
Part I with Douglas J. McCarthy
Part II with David Gooday
Part IV with Bon Harris