Photo: Hazel Hill McCarthy III
The electronic music fandom was sent into a tizzy recently with a slate of announcements on reformation, reissues and reunion tours from EBM/industrial/Balearic legends Nitzer Ebb, well-known as previous Mute labelmates, collaborators, and friends of Depeche Mode.
Home reached out to all of the boys in the band for q&a's about projects past, present, and future. In the first of the series, we caught up with NEP's workaholic frontman Douglas J. McCarthy.
—–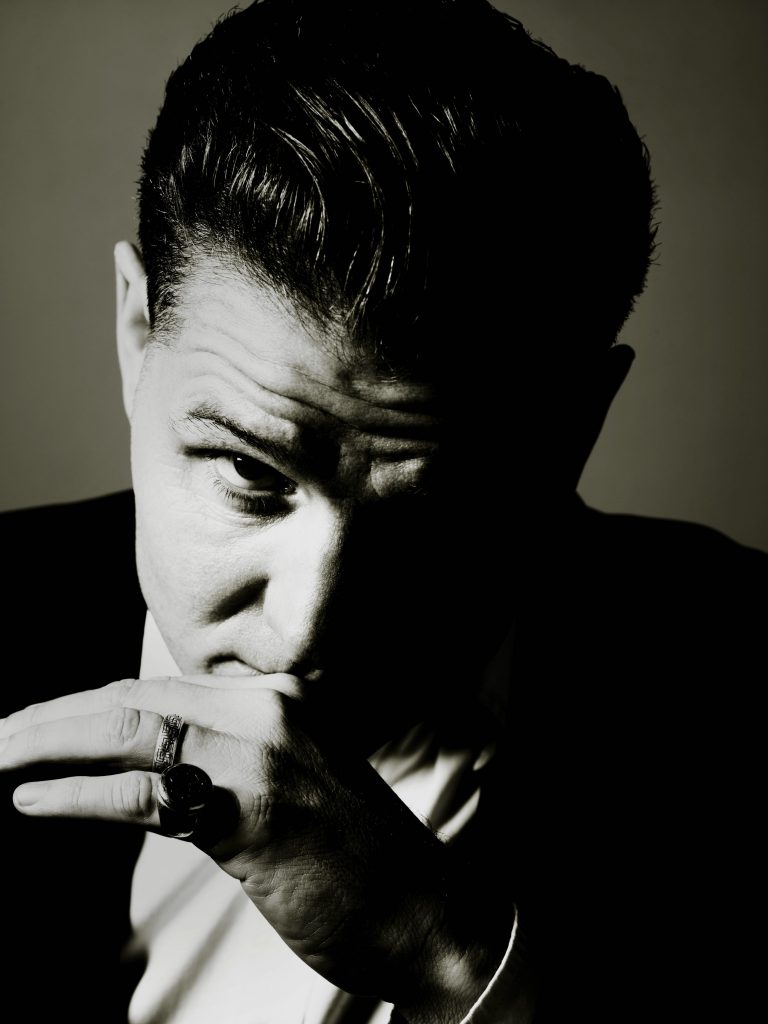 Douglas J McCarthy
Home: The recent Pylon release, "1982-2010: The Box Set", seems to be any NEP collector's dream. How much input did you have into which remixes and alternate versions would be included on the releases?
DJM: The Pylon Records release was something entirely pieced together by Peter Black, who is a huge NE fan. There was certainly some design input from Bon and myself regarding the book and sleeve and we wrote the text that is included in the book.
Home: The focus of the box set is the Geffen Records years, save for "Basic Pain Procedure". Was there an effort to clear some of the other material? (e.g., "So Bright So Strong" or 2010's "Industrial Complex")
DJM: Again, that was all Peter. He approached Universal to gain the licenses and then whatever they had he will be releasing.
Home: Your wife, Hazel, is a filmmaker. She's directed some videos for collaborative and one-off projects you've worked on. What did she bring to those video productions and shoots?
DJM: Yes, she has been doing all the NEP social media and web presence. As Daniel Miller always like to say about people who can be trusted to deliver, "she's a safe pair of hands". They are quite small hands, but enough about that.
Home: With several other musicians who are peers (Trent Reznor with Atticus Ross, Junkie XL, Thom Yorke, etc) moving into composing for film, streaming, and TV, do you see this as a continued direction for you? If so, what types of projects interest you?
DJM: NEP collectively or me personally? Either way, it's a yes. As far as types of projects, it's the usual suspects I'd imagine. Ethereal, challenging stories that connect to the human existence or question our understanding of it. Could be a documentary, a horror film, a family drama as long as it is moving and requires a response.
Home: How did "Bight of the Twin", the Genesis P-Orridge project Hazel directed and you produced and soundtracked, come about? What was filmmaking like compared to songwriting and performing?
DJM: Genesis Breyer P-Orridge was re-assembling a sort of manifesto S/he'd worked on in the 1980's. That version was essentially collected writings of GBPO. Through a mutual friend, Hazel was recommended to Gen as someone who could design and compile a much more expanded version. Genesis and Hazel spent a number of years on the book and became very close. Upon a trip to Katmandu Genesis became extremely unwell and was hospitalized. Hazel had read an article in The Guardian about the Vodun Festival in Ouidah, Benin and suggested to Gen that if S/he made it out they'd go to Africa and explore the festival. And that is what happened. Filming was intense. Extremely hot and humid. Very chaotic with lots of confusion. Editing was a blood, sweat and tears type of scenario. The music was a walk in the park by comparison. Hazel had been assembling soundtracks cut from the field recordings and so had a very good idea what she was after and it was down to Cyrus and myself to interpret or add to her vision.
Home: What's it like having the old boys back in the band?
DJM: Ha! It's great. It's been extremely interesting and pleasing hearing David and Simon's take on the NE catalogue. We are getting down to the nitty-gritty of rehearsals the beginning of November so a fair amount of our time has been spent listening and chatting over a small sherry. We're all excited. Great to play London to kick things off.
Home: You've supported Depeche Mode on several tours going back to the late 1980s but most famously on 1990's World Violation Tour in North America at some of the biggest venues they've ever played there, including the former Giants Stadium and two nights at Dodgers Stadium. What was it like playing to some of DM's biggest audiences up to that date? Any special memories of that time?
DJM: As you say, the Violator North American tour was certainly eventful. Everyone knew it was going to be good, the album had already led to some massive singles, but the wave of enthusiasm from across the country was staggering. It was a summer tour and only NE's 2nd as we were denied entry by US Immigration for the North American leg of The Music For The Masses tour (we "lacked musical merit" which to be fair, we did). It was a long tour also, so in one fell swoop we took in the vastness and the cinematic almost mythical symbols of 20th Century popular culture. From the swamps around the Mississippi Delta to Red Rocks in the Rocky Mountains, Manhattan and the Prairies. It was humbling to be on such a grand tour, but what is the most enduring aspect is how close-knit this massive crew and this now hugely successful band were and how inviting they were to us throughout that awe-inspiring experience. There was a lot of piss taking too.
Black Line
Home: How were the Support slots you performed with Black Line for Depeche?
DJM: They turned out so great. Seriously, the DM fans really took the time to get to know who we are and they knew the tracks. It was a bit parky, but that didn't matter with how well the shows went.
Home: What's Nitzer Ebb's relationship with Depeche like now?
DJM: To be honest, it doesn't feel a million miles from when we first toured with them in 1988. Everyone's gone through normal life situations, dramas and tragedies but it does feel like we are essentially the same people as we always have been. Some of us chat more often but put us in a room together and pretty soon we'll be taking the piss out of each other.
Home: Any news from any of your previous band partners like Jason Payne, Julian Beeston or Kourtney Klein?
DJM: JP is a dad and working on scores for film and TV; Julian, as far as I know, has a studio still and is doing well; haven't heard about Kourtney too much but certainly wish her well.
Home: What do you think the legacy of Nitzer Ebb will be?
DJM: I would hope it would be our work ethic and attention to detail. We never wanted to take our foot off the old creative pedal. When we did, we took ourselves away from NE to pursue other ways of releasing that. We always wanted and still want NE to be the best it can be.
Home: What can fans expect from the forthcoming Nitzer Ebb shows?
DJM: All the classics but not all as you are used to hearing them. That's not to say there is anything missing from performance or intensity when it's required, just a slight resetting of how these tracks can sound.
Home: Whatever happened to the planned DVD that was filmed during 2009/2010 – you lived with a camera crew for ages – will the footage ever be released?
DJM: Good question. I think the tapes are in storage in Las Vegas.
Home: Will the 4 of you be venturing into a recording studio at any point?
DJM: That certainly is not on the table, but not absolutely off the table. First thing first is to do the new shows.
Part II with David Gooday
Part III with Simon Granger
Part IV with Bon Harris