CBS Interactive's award-winning webcast concert series, LIVE ON LETTERMAN, kicks off 2013 with Depeche Mode performing live from the world-famous Ed Sullivan Theater in New York City and webcast on CBS.com and VEVO, Monday, March 11 (8:00 PM, ET/5:00 PM, PT).
Depeche Mode will perform a live set that will showcase previously unheard music off of the band's highly anticipated upcoming album Delta Machine, as well as some of their classics. Delta Machine will be released worldwide on March 26 via Columbia Records.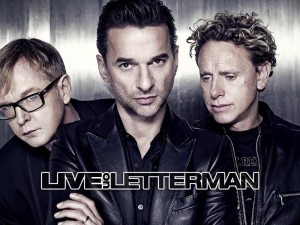 Fans can watch Depeche Mode's webcast live or on-demand on CBS.com athttp://www.cbs.com/shows/liveonletterman/ on Radio.com or VEVO.com.
Depeche Mode's LIVE ON LETTERMAN webcast will precede their appearance on the LATE SHOW with DAVID LETTERMAN, which will be broadcast that same evening, Monday, March 11 (11:35 PM-12:37 AM, ET/PT) on the CBS Television Network.