Billboard Magazine has done a little write up and preview on "Ssss" from VCMG. While it's nice to see the project get some recognition from an outlet like Billboard.com, there's nothing really new to add to what the current fans know music wise. There is, however, a little insight to the promotional plan – "Overall, we're targeting existing fans of the artists as well as fans/DJs of techno and EDM." Also, there was a mention of a potential remix contest in the works too! If you missed it, read the whole article after the jump!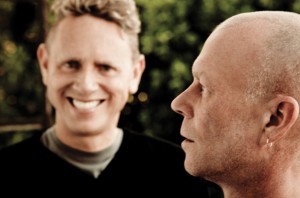 VCMG
Title: SSSS | Release Date: March 13
For such a high-profile collaboration, everything about VCMG-the union of synth pop titans and former Depeche Mode bandmates Vince Clarke (now the creative mind behind Erasure) and Martin L. Gore (still Depeche's primary songwriter) is quite minimal.
For one, there's the music: Wordless techno at its most bare, churned out of vintage analog synthesizers in the Cabin, Clarke's studio in the woods of Maine, and tweaked and finessed remotely by Gore. Even the track names-like "Bendy Bass" and "Single Blip"-are spartan. Two EPs with remixes, starting with Spock (Mute), out now, will lead up to the album's release.
"We didn't plan each track out, looking for this or that. We were just messing about with sounds," Clarke says. "We didn't have to worry about choruses or anything. It was just pure sound play, and that really made the process quite pleasurable."
Then, there's the partnership itself. Despite having not worked together since 1981-when Clarke was still a member of Depeche Mode, writing its first big hit, "Just Can't Get Enough," before going his own way-Clarke and Gore didn't desire or require an epic air-clearing or massive stage to link up.
"It's just handy to have someone to run ideas off of," Clarke says. "I can't really judge my own work. I thought, 'Well, I never worked with Martin, really,' and I knew he was interested in synths. It felt like a good email to send."
The promotional plan, too, is simple. "Although high profile, this is very much a side project for both artists," Mute marketing director Nicole Blonder says. "Overall, we're targeting existing fans of the artists as well as fans/DJs of techno and EDM." Exclusive prereleases on dance-dedicated DSP Beatport, club DJ servicing, consumer advertising, limited press and potentially a remix contest are in the works.