This post was originally meant to be a news story on the new "Memento Mori" album being released today. But you know that already. So we could do a story on the tour that kicked off last night in Sacramento. But you no doubt are well aware of that as well. We could also be reminding you that French TV program Taratata is airing tonight, and the band are performing live (pre-recorded of course). As if you needed reminding, right?

So let's consider all that done. You've heard the album. You've seen as much info from the show as you want. And you've set an alarm for when the Taratata broadcast starts. Good. For good measure you've also watched the interview with Zane on Apple Music *and* listened to the audio version (which is a good 30+ minutes longer of course).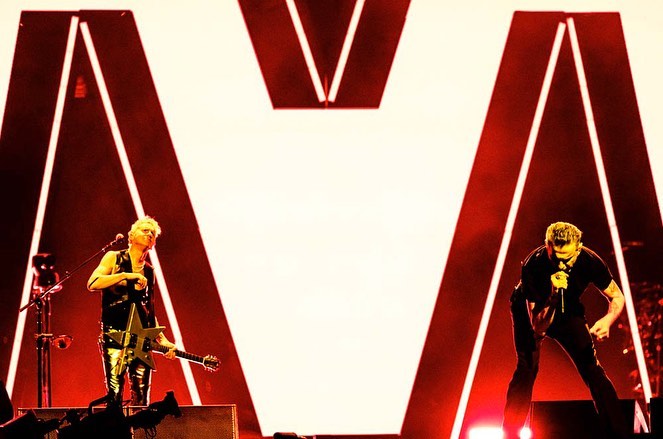 How the fuck are we having 24 hours like this? This is not what Depeche Mode fandom is usually like. We're creatures of habit. We're accustomed to waiting, jumping at scraps of information, hoping for news of a new… well… anything. We're not equipped to handle this. It's just too much. This is sensory overload. "We are flying high" indeed, and we need to catch our breath.
The album is impressive. Everyone of us who are in some way involved with this site agrees. Even Pete likes most of it. And believe you me, I did NOT see that coming!
The odds of us living through these exact 24 hours – a new album, a new tour, TV performances, interviews – are astronomical.
Think about it.
The songwriter left the band just a few months after the debut album was released. Surely no band survives that. That was 42 years ago. Several highs, and some really low lows ensued: Breakdowns, arrests, overdoses, in-fighting, going from a four-piece to a trio, some more ODing… SURELY no band survives ALL THAT! Right? Uhm… wrong. All that was over and done with 28 YEARS AGO!!
For me, personally, I was pretty sure this day would never come. I remained hopeful, but I really didn't believe it. Then there were rumblings of the band maybe getting back to work after the COVID pandemic. As those rumblings gathered momentum, and some actual real news started trickling through all hopes were – for me at least – crushed by the devastating news that Andy had passed away very suddenly: Shock and disbelief.
That was less than a year ago. And yesterday they started what looks to be their longest and most far reaching world tour in DECADES. And today they released their best album in at least 25 years.
And tonight they're on TV. And I'll watch it, and I'll no doubt have fun doing so. I'm also gonna be thankful, that against all odds, I get to experience to "new-Mode-buzz" once more.
Now go pick up "Memento Mori" if you haven't already. It's good.