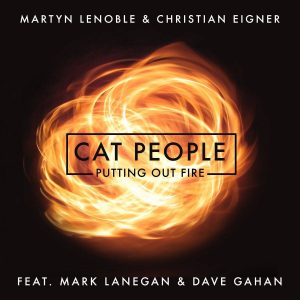 Martyn LeNoble and Christian Eigner announced the upcoming August 2nd release of a benefit single, covering David Bowie's 'Cat People (Putting Out Fire)'.  The single will feature Depeche Mode's Dave Gahan and Mark Lanegan, best known for his work with Screaming Trees and Queens of the Stone Age.  Proceeds from the single will be donated to the American Liver Foundation.
Martyn LeNoble and Christian Eigner's Bandcamp page now has the full track for streaming and purchase as a lossless .WAV, FLAC and MP3 file.
The original version of 'Cat Power' was written by David Bowie with music and production by Giorgio Moroder for the 1982 film of the same title.  Bowie re-recorded the track for his 1983 album, 'Let's Dance'.