As the year is winding down, we wanted to take a look back at 2015 and put together our Top 10 Depeche Mode Moments Of 2015.  It was a busy year for the members of Depeche Mode and it's great to see all of them out there continuing to express their creativity while they're inbetween Mode records. There was quite a lot to choose from, but we've narrowed it down to these particular moments for our Top 10. While we all wait to see what the future brings,  join us as we look back at the year that was 2015….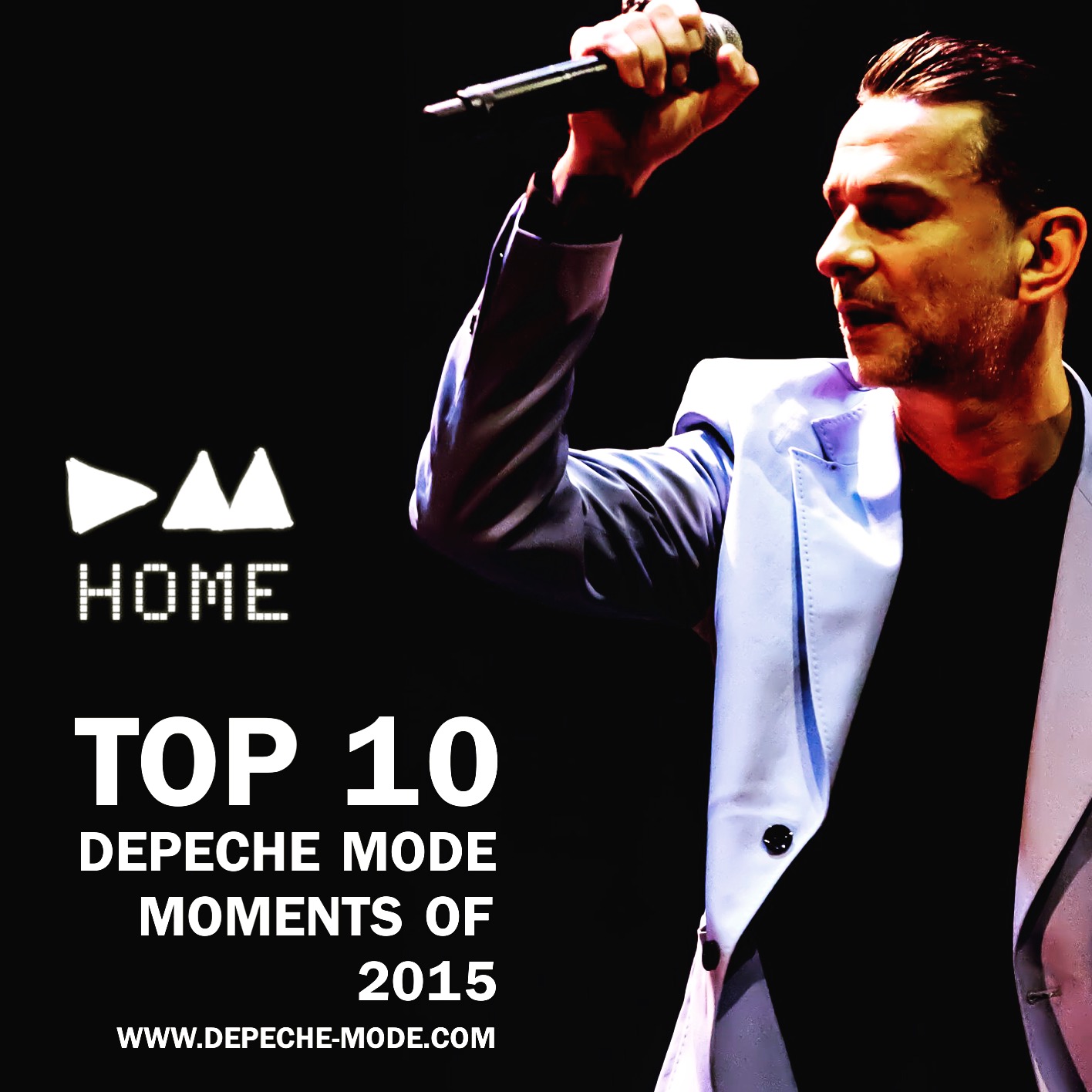 10. Martin L. Gore guest mix for BBC Radio 1
Martin L. Gore joined Heidi on BBC Radio 1's Residency show for a phone interview and an eclectic 30 minute guest mix. Both the interview and mix were broadcast on on Thursday March 26th, 2015. They had a great discussion about the MG album, documentary films, and much more. One of our favorite take aways from this interview is Martin's continued passion for music. In their discussion, he talks about his love for Andy Stott's latest record, "Faith In Strangers", and Andy would later go on to remix MG's lead off single, "Europa Hymn", later in 2015.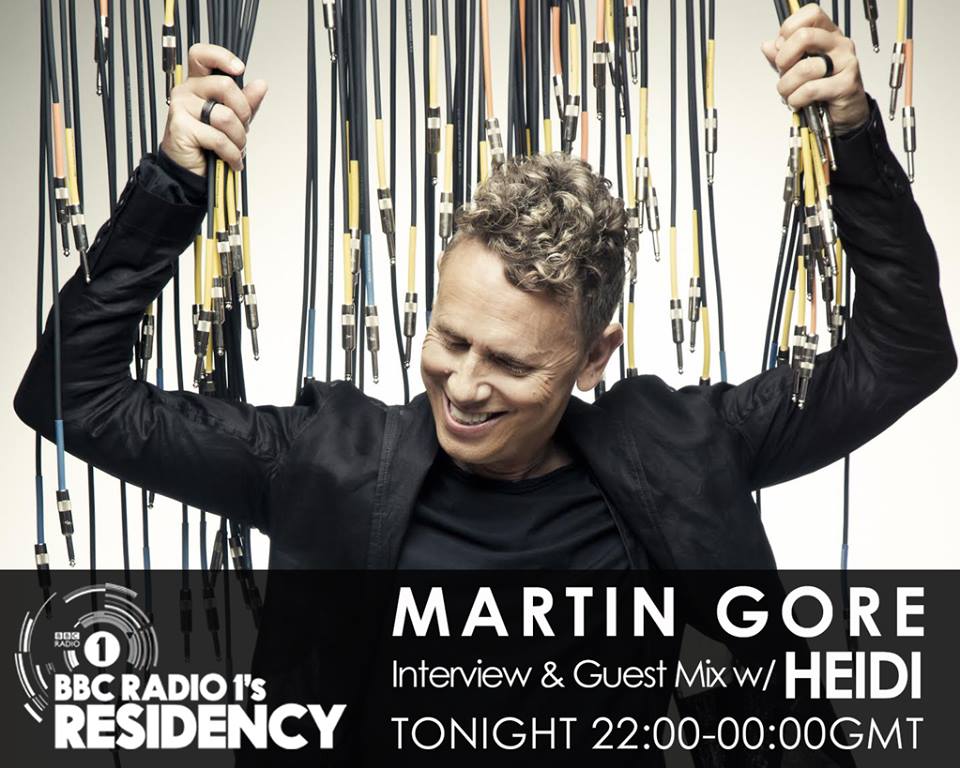 Heidi describes her interview with Martin L. Gore, "I'm back this evening with my Residency show on BBC Radio 1. Tonight I have the pleasure of having a very special guest. I've been a major fan & danced my ass off to his/their music for the past 25 years of my life. It's crazy how things can come full circle. I still can't believe he agreed to be on my show. His new instrumental album (MG) on Mute Records is coming out soon and it's absolutely incredible. Martin L Gore the founding member from Depeche Mode is letting little old me interview him & he's made me/you a wonderful 30 min eclectic mix of electronic soundscapes." (via her Facebook page)
If you missed it, listen again here.
09. Andy Fletcher DJ Set from Italy
Andy Fletcher has been out on the road this year on his European DJ Tour that has seen him DJ in countries like Ukraine, Germany, Denmark, and Poland just to name a few. While his tour just wrapped up, we were excited to find that a live recording of his nearly 2 hour set from December 4th in Italy was recorded and posted online for everyone to check out. Andy was playing at Switch inside Joia in Italy and the event was also streamed on Radio Ibiza Dance Station. Not only did they stream it, but Radio Ibiza Dance Station uploaded the recording to their soundcloud page. Did they have permission? We're not sure, but it's a great set and we hope they keep it up. Andy played a mix of new and old and threw in some Depeche Mode remixes as well. While some recordings from when he first started to play out in the Toast Hawaii days are out there, we think this one is the best to represent what he's into now.
Here's the flyer for the gig:

Here are some photos of the event via the Switch Facbook page. Photo credit: Gaetano De Angelis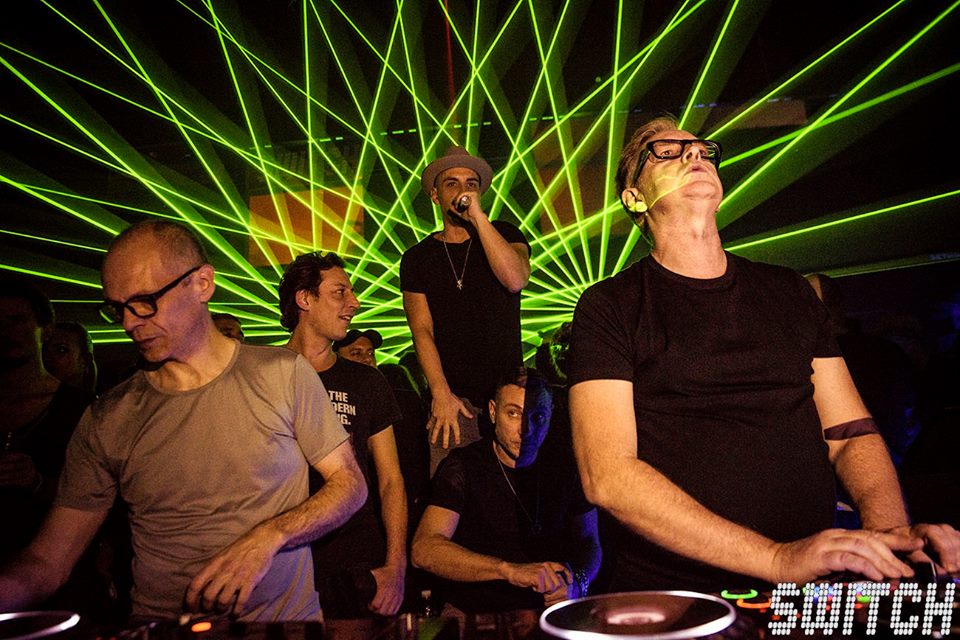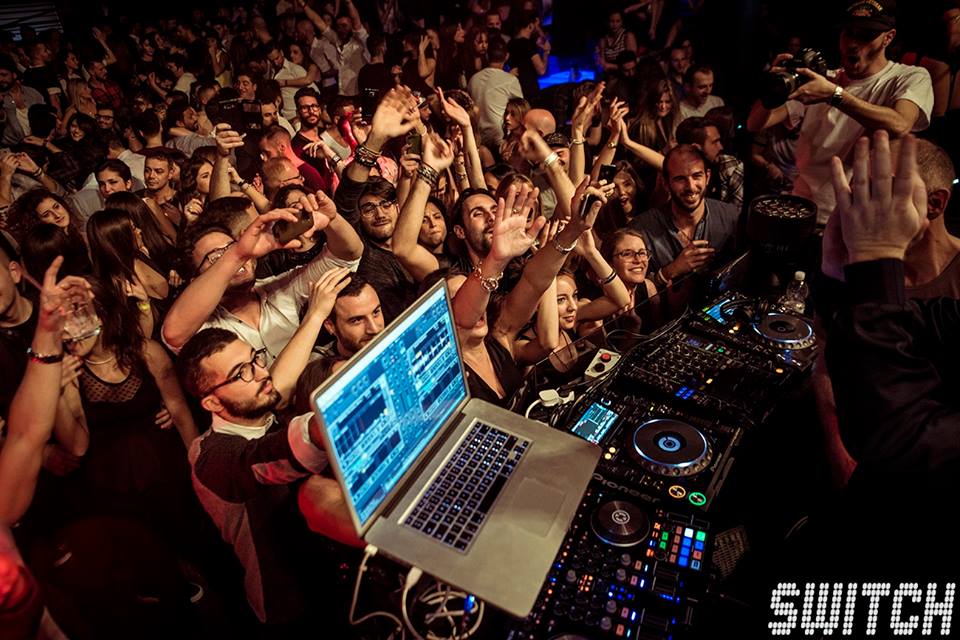 Have a listen for yourself here!
08. Dave Gahan & Soulsavers Hologram
Fans attending the first Dave Gahan and Soulsavers show promoting "Angels And Ghosts" in Los Angeles were welcomed by an interesting sight. Walking in, they noticed something in the lobby – a hologram of Dave himself! It caused quite the stir on social media, especially Instagram, to the delight of everyone who couldn't attend. Since the entire show was being streamed live via Live Nation, the clips of the hologram in the lobby added even more excitement of the gig and stream. The speculation on what it could be was at an all time high and fans were thrilled to find out later it was for "All Of This And Nothing". We compiled a bunch of fan clips and put them together for everyone to check out. (Edited by Angelinda and all credits to videographers were given here)
To add to this forward thinking video, fans were given instructional templates on how to make their own hologram as well. The mesmerizing visuals were created by Fourclops, a directorial team headed up by Eli Stomberg and Jeff Greco. Greco describes, "We think it's very cool. It's sort of symbolic because the ideal way to enjoy this video is to take an old CD jewel case and transform it into this futuristic hologram viewer, sort of taking the old and making it new." The directors felt that Dave Gahan is the perfect artist for this considering that he's been really forward-looking and always pushing the boundaries of modern music.
Here's the full video of the incredible lead off single, "All Of This And Nothing".
07. The Depeche crew support Dave & Soulsavers
It really warmed our hearts, and Devotees hearts in general, to see the members of Depeche Mode, collaborators, and friends in the DM world show up to support Dave as he and The Soulsavers embarked on their first tour in support of the latest record, "Angles & Ghosts". Over a few different shows, like Los Angeles and London specifically, all of the members and touring members of Depeche were able to catch them live. Of course long time manger, Johnathon Kessler, was at shows, but so were Daniel Miller as well as Bon Harris and Doug McCarthy of Nitzer Ebb. We, of course, can't say what it meant to Dave, but for us as fans, it really was amazing to see some of Dave's Depeche musical family show up and be there for him. We dug deep into social media sphere and here are some pictures fans have shared. They're not all the best quality, but it's about the moment and support than the quality here.
Dave and Doug McCarthy of Nitzer in Los Angeles  (photo: @balletgirrl via Instagram)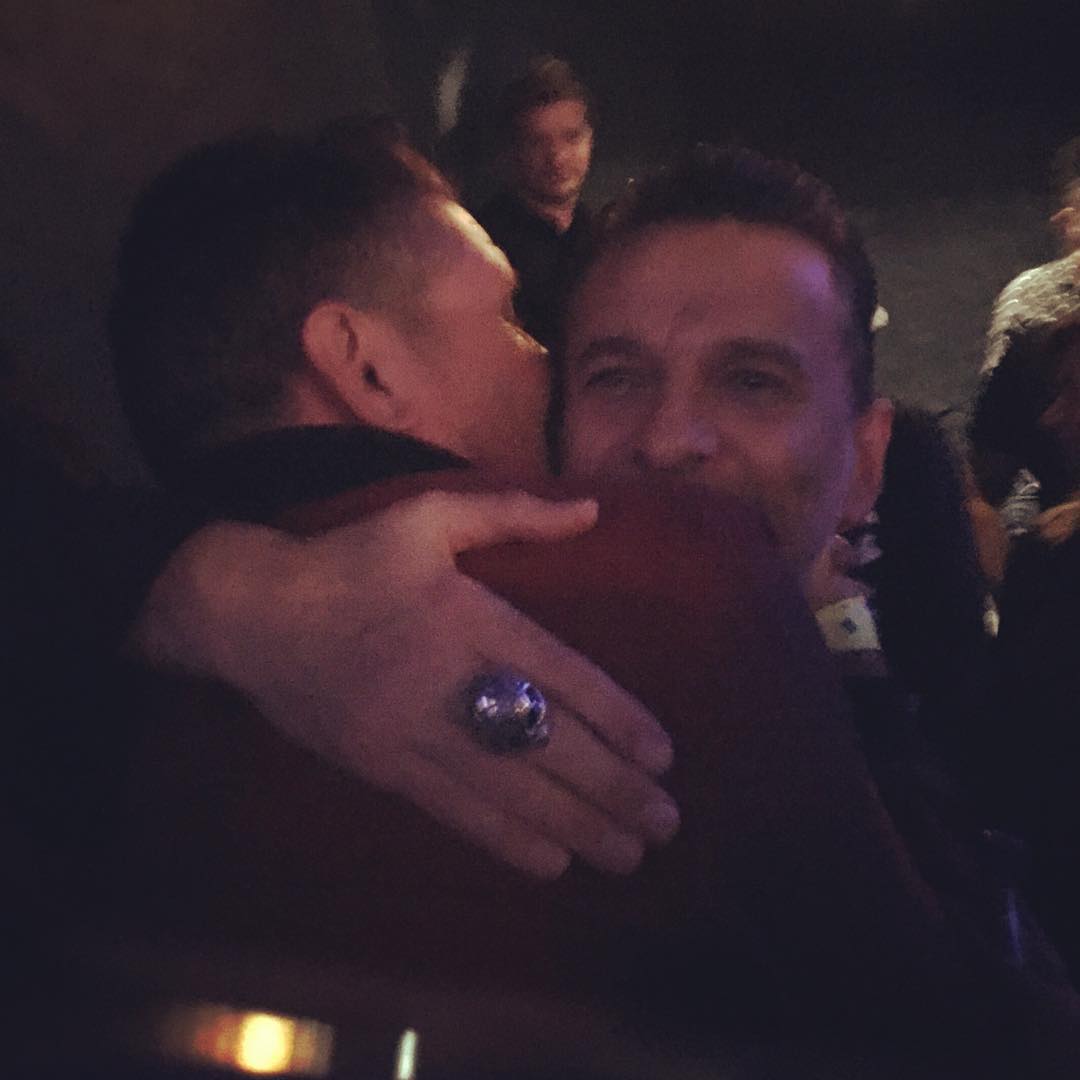 Martin L. Gore in Los Angeles (Photo: Nun Such via Facebook)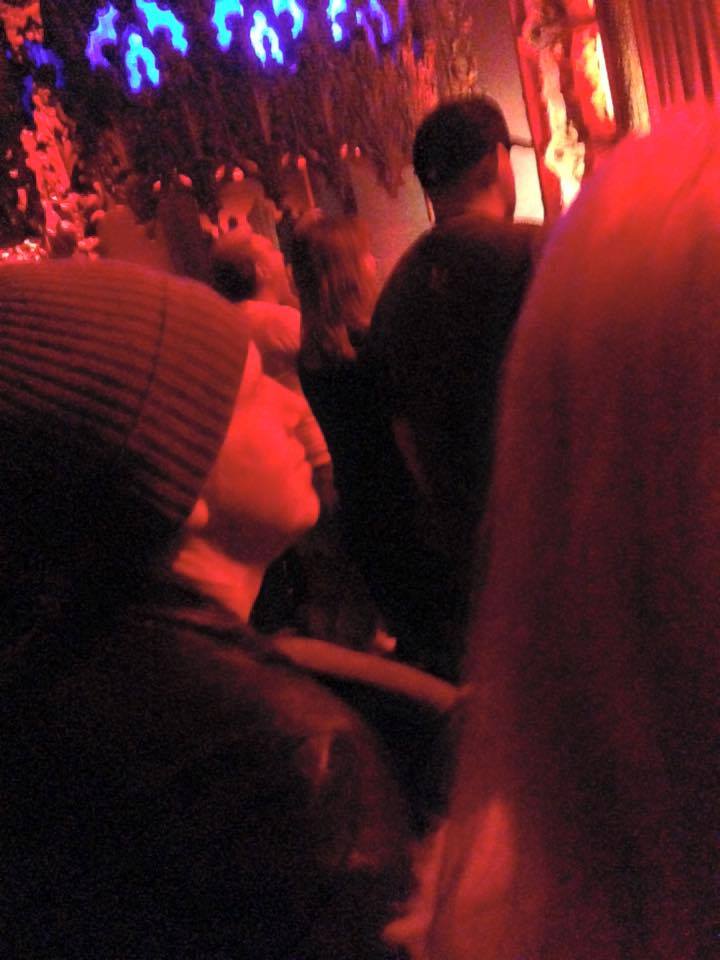 Andy Fletcher in London (Photo: @np20boy via Twitter)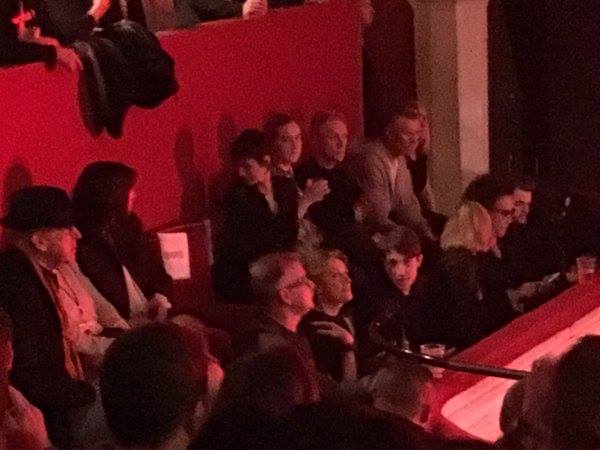 Peter Gordeno and Christian Eigner in London (Photo:@conradtheowl via Twitter)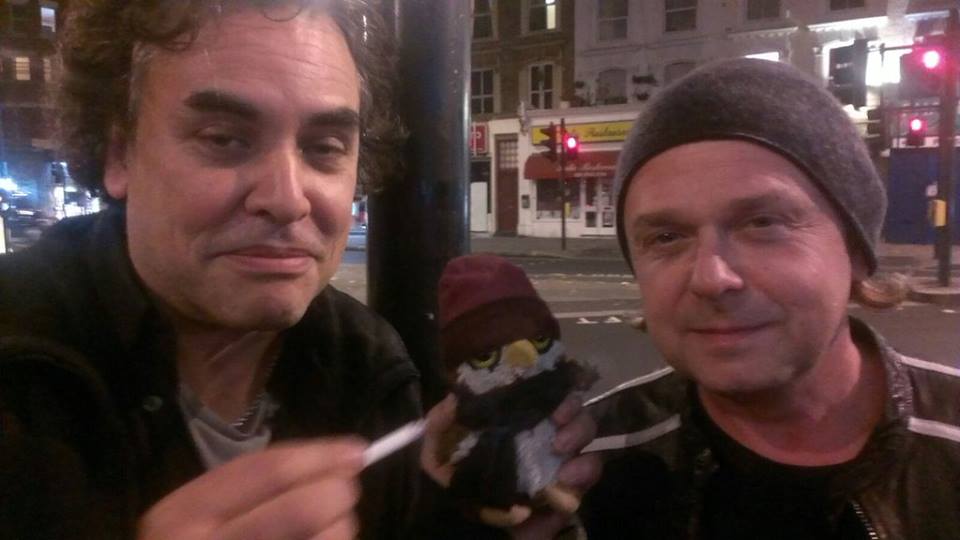 06. Dave Gahan jokes that Depeche Mode have broken up
In November, Dave Gahan sat down for a TV interview with Le Grand Journal and gave them some "exclusive" news that collectively sent the Devotees into a panic for a few seconds. It really was a great moment and really entertaining watching Dave have some fun with everyone.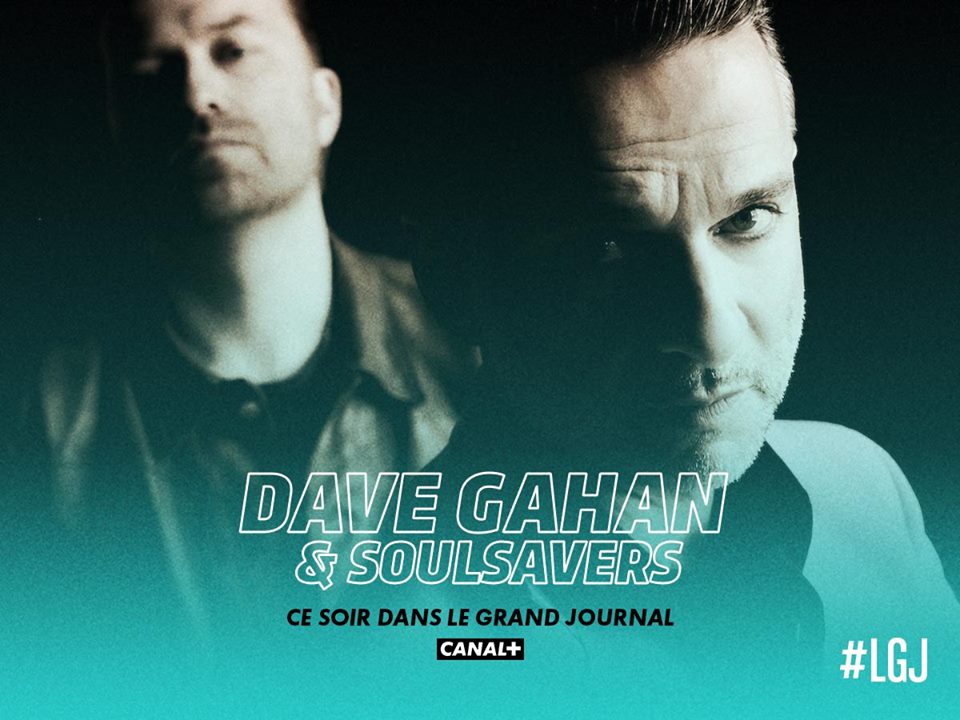 If you missed it, watch the clip here!
05. The Charity Water Ball at the Met in New York
On December 7th, members of Depeche Mode attended the 10th Annual Charity:Water Ball at the Metropolitan Museum of Art in New York City. Charity:Water describes the event: "Charity: ball is an annual celebration of the work we've accomplished and the people who make that work possible. It's a chance to gather with our friends and raise money for water projects around the world. And it's our favorite night of the year."  Aside from Martin being part of the host committee, Depeche Mode have been big supporters of Charity:Water and have reached out to their fans to not only be aware of the need for clean water in the world, but to consider donating to the effort via their website. 100% of the donations from the evening went directly to fund water projects. It was lovely to see them together to end the year on, especially since Martin, Dave, and Andy have all now hinted about their desire to get together in 2016 to discuss a future Depeche Mode record. Not everyone was available to attend due to schedule conflicts, but we're getting excited about 2016!
Kessler, Gore, Gahan, Sklias-Gahan, & Gordeno in NYC (Photo: Adam Mason)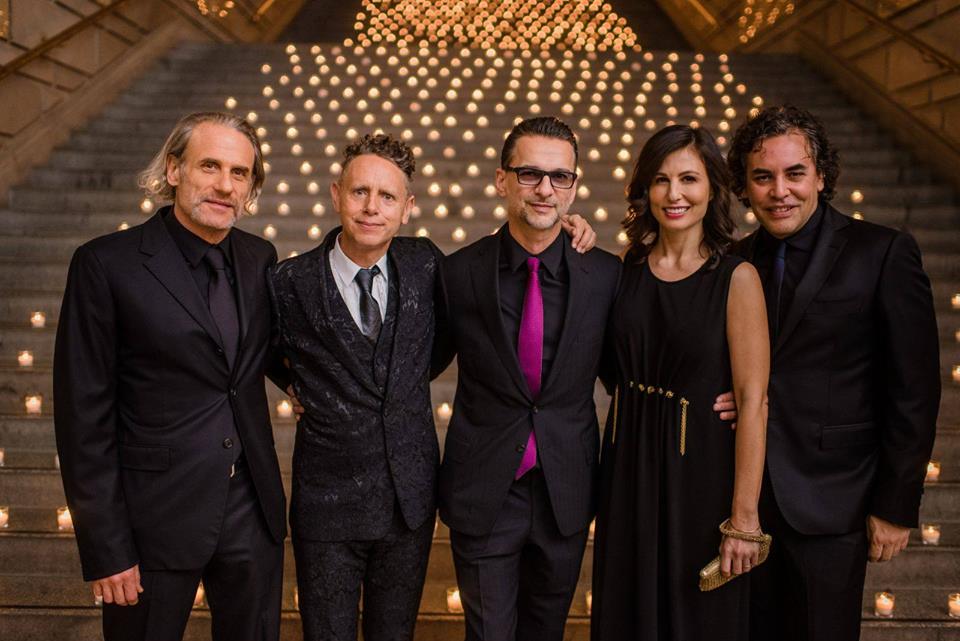 04. MG hits No. 1 on Billboard's Top Dance/Electronic Albums chart 
Martin L. Gore's solo project, MG, hit the #1 spot on Billboard's Top Dance/Electronic Albums chart and it's Martin's first #1 with his solo material. While other projects he's been a part of have had success, it was great seeing the MG album get the top spot. Billboard describes:
"Depeche Mode's Martin Gore grabs his first No. 1 on Billboard's Top Dance/Electronic Albums chart with MG (credited to the acronym MG). The instrumental electronic set sold 2,000 units in the week ending May 3, according to Nielsen Music. While Gore's previous solo efforts were credited to Martin L. Gore, this album continues the MG moniker that Martin used on Ssss, his 2012 album with fellow Depeche founder and Erasure co-leader Vince Clarke. That similarly instrumental work, credited to VCMG, reached No. 10, while Gore's only other full-length solo album, Counterfeit2, capped at No. 3 in 2003. An earlier EP, Counterfeit, hit No. 156 on the Billboard 200 back in 1989. (That release pre-dated Top Dance/Electronic Albums by more than a decade, as the genre chart began in July 2001.) "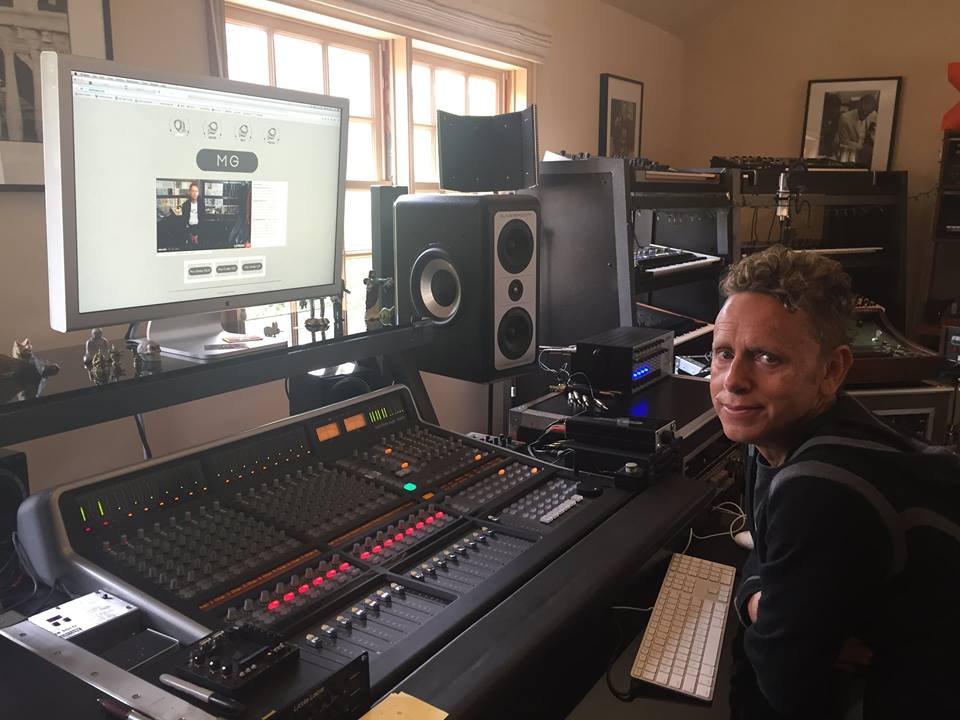 03. MG "Featherlight" remix contest
When Martin L. Gore announced the release of the MG remix EP, that saw a release on both Vinyl and Digital formats, he also announced an open remix competition for the song "Featherlight." The remix contest was in association with BitTorrent and the winning remix would be included on Martin's digital release of the EP. Interested contestants were giving instructions to download the exclusive MGxMG Remix Bundle that unlocked exclusive videos and the stems for "Featherlight." Remix submissions were then uploaded to Soundcloud where the winner was selected. Martin describes the contest, "Remixes have always been a big part of what Depeche Mode has done, and that carries through to what I've done. It's also about finding innovative ways to promote the music after the album release, so it was suggested that we do a remix competition, which I think is good because it engages quite a lot of people, and maybe a slightly different audience as well. Maybe people who are into tech who might not have gone out and bought the music, but are interested in that angle and interested to hear what the music sounds like."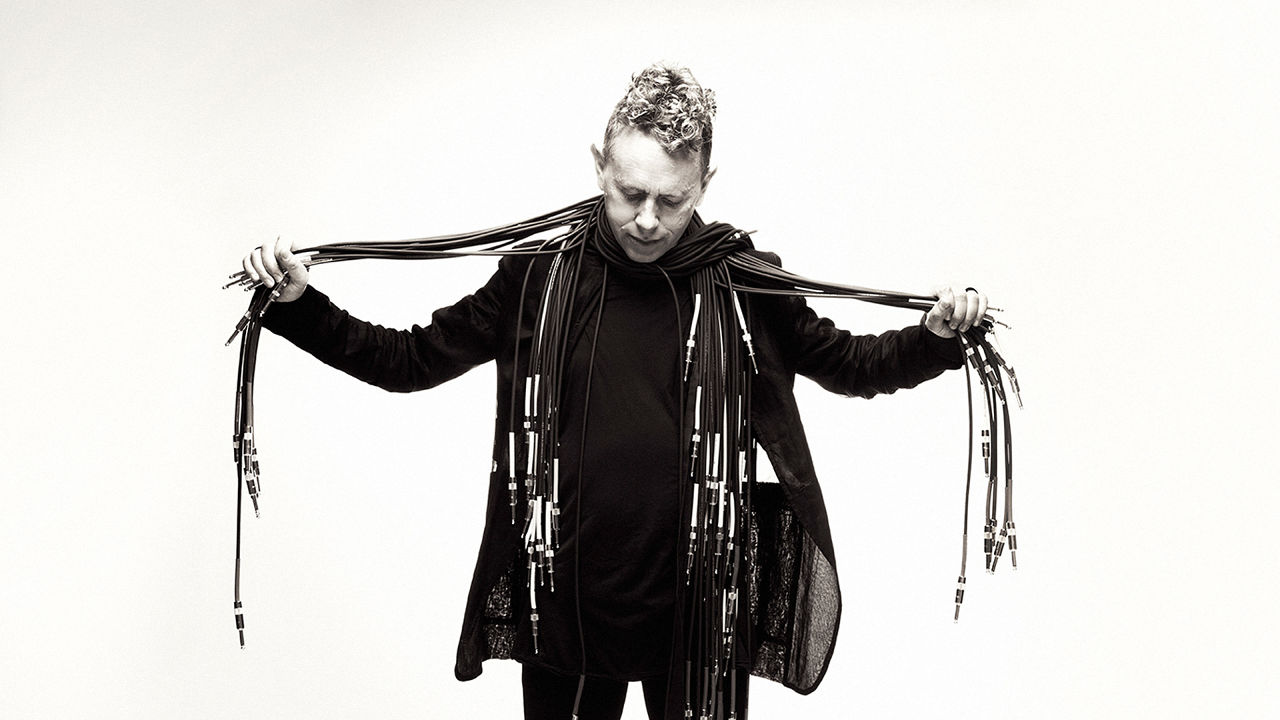 A variety of styles were submitted, but Mantra Of Machines from Austria were hand picked by Martin as the big winners of the contest. What a great way to connect and interact with fans and congrats again to Mantra Of Machines on their win.

Martin penned a personal note to everyone who entered via his Facbook page and here's what he had to say regarding the remix contest:
"Dear producers, musicians, singers(!), programmers et al. I am deeply humbled by the sheer number of entries and the high standards that were maintained throughout this competition. I congratulate you all! My search to find "the ultimate winner" has been long and challenging. By Tuesday, I had narrowed my choices down to 5 and I thought that I would have a few more listens on Wednesday morning and the decision would be simple. How wrong I was! Each of my finalists was completely different, ranging from the beautifully ambient to harder, club-friendly bangers. I could have quite easily picked any one of them and been happy with my decision. I listened over and over again until I was close to the point of delirium! How do you choose one winner from such different genres? Now I understand why awards ceremonies have different categories! I do, however, have to pick one winner. Please remember that this process has left me on the verge of madness! If I have upset anyone, that is my excuse! AND, the winner is————————Mantra Of Machines"

02. Dave Gahan & Soulsavers perform Condemnation
Not to take anything away from the amazing live versions from the Soulsaver songs, but it was such a special moment for Depeche fans when Dave Gahan and Soulsavers performed their incredible version of "Condemnation" on this tour. If you attended or watched the live streams, you know how special these shows were from top to bottom. On this tour the band played a perfect mix of songs from both "The Light And The Dead See" and "Angels & Ghosts", but  in the end they slipped in some Dave Gahan and Depeche Mode classics. Songs like "Dirty Sticky Floors", "Walking In My Shoes", and "Kingdom" all received the Soulsavers treatment, but there was something special about "Condemnation" and we think Dave and the band felt it too. In an interview with DJ Nikki from Radio Deejay in Milan, he reflected on the moment a few nights before in France:
"Two nights ago at La Cigale in Paris, in the Pigalle, which is this little theatre with a lot of history, I think it was for me, and for the other guys – we talked afterwards – a very, very special performance, and I think I was maybe at my best. And at the end of the show, after we finished the Soulsavers songs, we did a couple of songs people know, and we did a version of "Condemnation" which went on for ten minutes, which I think was the best I've ever, ever sung that song. I felt so deep inside my soul. It was cool."
Dave Gahan & Soulsavers in Los Angeles (Photo: Debi Del Grande)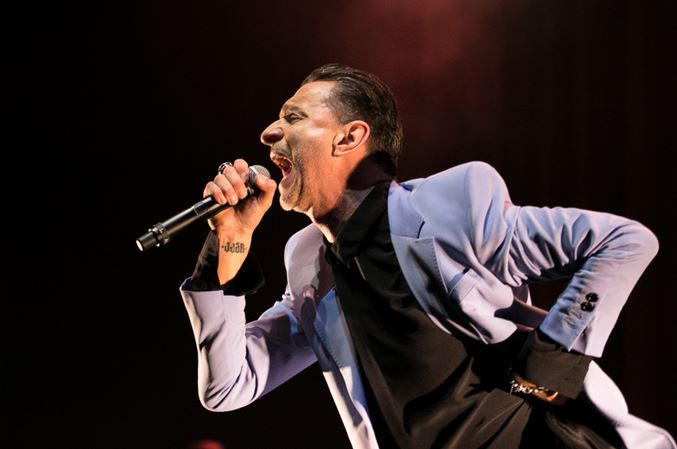 They band debuted all the songs for this tour in Los Angeles on October 19th at the theater inside the Ace Hotel. "Condemnation" was made a little more special since Dave dedicated it to Martin who was in the audience. "That ones for Mr. Gore" he said and here it is for you to relive again.
01. Violator's 25th Anniversary
2015 saw a lot of great moments for Depeche Mode and their fans, but we can't think of a better moment to mark the #1 slot on our Top 10 then the 25th Anniversary of Violator. What can be said about Violator that hasn't already been said? Nothing, so I won't bore you with trying to find some new angle to sing its praises. Simply put, perfection even 25 years on.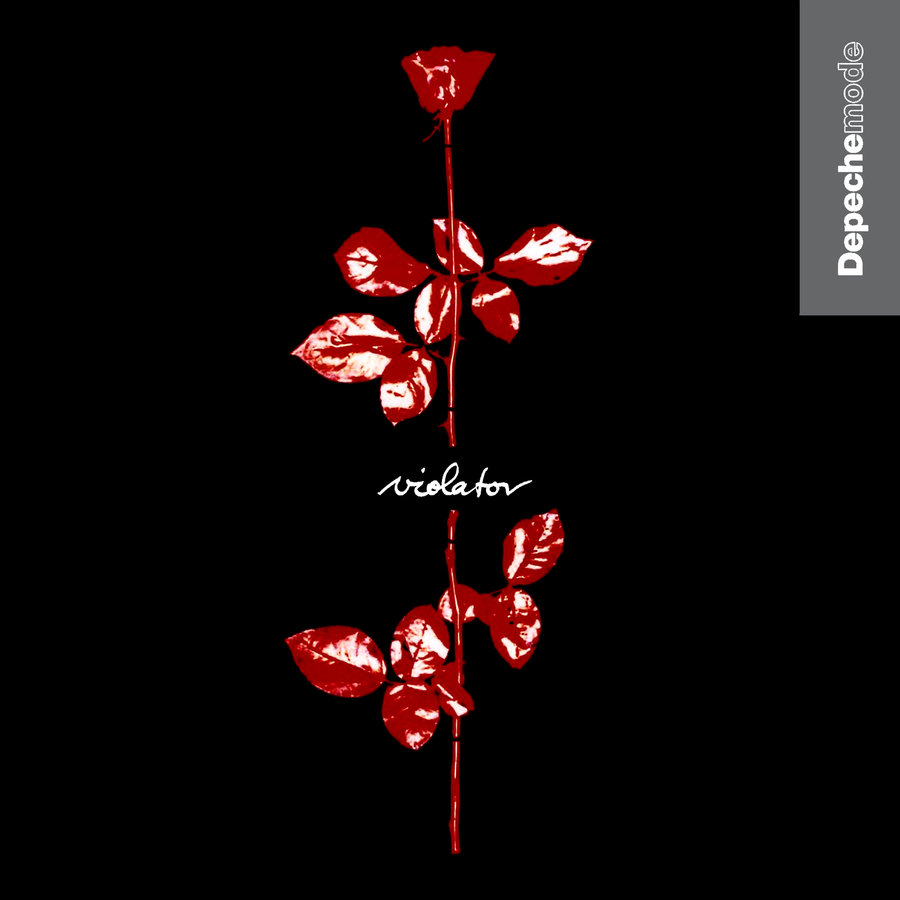 To celebrate the occasion here on HOME, we were thrilled to do an interview with François Kevorkian and put together an audio tribute that you can stream below.
Well that's our Top 10 Depeche Mode moments of 2015. We hope you enjoyed our look back over the year and we look forward to bringing you all the latest news and more in the future.
Honorable Mentions: (in no particular order)
Martin L. Gore live chat during MG stream
Dave Gahan & Soulsavers live streams (Los Angeles & Berlin)
Johnny Marr covers and releases "I Feel You"
MG video teasers leading up to the album release
Dave Gahan & Soulsavers "Shine" video