If you think of bands that are in any way similar to Depeche Mode, ZZ Top are probably one of the furthest on your mind, and vice versa. Well, in an interview with Billy Gibbons published today on The Guardian, Billy admits that he prefers being compared to our Basildon boys, out of all bands:
The Guardian: ZZ Top have been compared to all sorts of unexpected bands, because of your presumed satirical quality and trash aesthetic: Kiss, Devo, the Cramps, B52s, Ramones. Which do you think is the most like you?

Billy: I know the one I'd most like to be compared with – Depeche Mode. I'm really fanatical about those cats. I had the pleasure of making their acquaintance in 85 and we've stayed pals ever since. I worked with them last year, actually. They had a record called Soothe My Soul [from 2013's Delta Machine] and I got a phone call from Dave [Gahan] saying, "We've got to do an extended remix, and we need a little Texas mud sprinkled over it." I said "I'm your guy!"

The Guardian: Did you hang out with Dave and Martin (Gore)?


Billy: Yeah. Martin is actually an underrated guitarist – he's quite the six-string slinger.
He certainly isn't lying. As well as there being a photo of Gibbons at a DM concert in Houston in 1990 on a certain photo agency site, there is also a newly uploaded photo of Gibbons chatting to the Raveonettes, who uploaded it on their social media 2 weeks ago: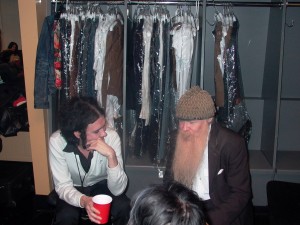 The Raveonettes explain "Here's a classy pic of Billy Gibbons of ZZ Top fame and myself during 2 nights at Staples Center in Los Angeles with Depeche Mode in 2005. Our tour manager was also Billy's personal assistant so he was just kinda hanging out all the time and told funny stories. He owns an insane collection of vintage cars and guitars! Very lovely man!"
Depeche Mode's reach knows no bounds!