If you missed it, The AXS TV network had the broadcast debut of Live In Berlin tonight and they presented the film a little differently. Coming in at a condensed hour and 20 mins, the broadcast really changed up the running order of the tracks. It wasn't as simple as omitting a few songs for time, they really used the songs that made it feel like an hour concert from the band. The songs were almost in the same order, a few tweaks to the setlist, but  I have to say I was pleasantly surprised and enjoyed the change up for the broadcast. It made it interesting for the hardcore fan and the pacing worked well, not quite as good as the official running order of course, but I really appreciated the effort to make it interesting for people who had already bought the film. Over all, I think it's a pretty solid representation of the band today, especially to a casual fan or someone tuning in to check them out for the first time. Lots of Delta Machine represented as well as some classics! No real complaints, other than wishing "But Not Tonight" had been included, but other than that I was pleased with the presentation. AXS was saying it included "Just Can't Get Enough", but it wasn't actually included.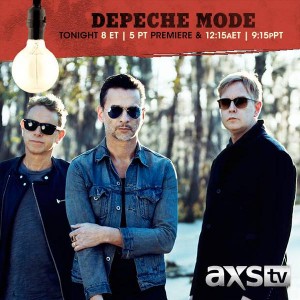 Songs running order:
Welcome To My World
Black Celebration
Should Be Higher
Heaven
Soothe My Soul
A Pain That I'm Used To
Personal Jesus
Shake The Disease
Enjoy The Silence
Halo
Never Let Me Down Again
Goodbye
Here's how AXS TV described the premiere of Live In Berlin:
Just Can't Get Enough of Sunday Concerts? Depeche Mode: Live in Berlin premieres this Sunday at 8 ET|5 PT!
"All you've ever wanted and all you've ever needed" will be hitting AXS TV this weekend with the premiere of Depeche Mode's incredible show from Berlin, Germany. The momentous concert captures one of two sold out nights at the O2 World, during The Delta Machine Tour. Don't miss career hits and classic favorites, such as "Enjoy The Silence," "Personal Jesus," and "Just Can't Get Enough." The internationally acclaimed band proves they're one of the greatest and influential artists in EDM with this electrifying performance exclusively on AXS TV!
Get a sneak peek of the show with "Personal Jesus":