If you're in or around the Santa Barbara, CA area on Sat, December 15, you can catch Martin Gore DJing at the 3rd Annual Holiday Sound Check charity fundraiser. If that wasn't enough, joining Marty on the decks will be Doug McCarthy of Nitzer Ebb as well as Static Revenger. There are very limited Meet & Greet tickets as well as VIP and General Admission offerings. So let's help support the Noise Music Foundation [newnoisesb.org] and Notes For Notes [notesfornotes.org] as they head into the 3rd year of this special holiday fundraiser.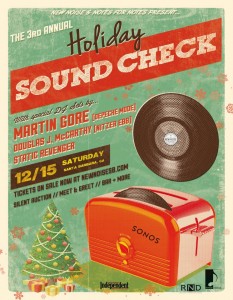 This is the best product I have bought! They have really helped my erection. ? The difference between a brand name medicine and a generic one is in the name, shape and in the price.
When: Saturday 12/15/12 8:00 PM
Ticket Price: $30.00 – $100.00
Show Type: Electro
21 & over
Description:
New Noise & Notes For Notes Present…
3rd Annual Holiday Sound Check Feat. Martin Gore DJ set [Depeche Mode]
w/ special DJ set by Douglas J McCarthy + Static Revenger
Date: Saturday, December 15th
Time: 8:00p
Age: 21+
Location: 120 Santa Barbara St. Santa Barbara, CA 93101
Join New Noise Music Foundation [newnoisesb.org] and Notes For Notes [notesfornotes.org] celebrate the holiday season with a party you won't want to miss! Legendary Depeche Mode songrwiter and guitarist Martin Gore will once again hop on the turntables for a special hand crafted DJ set. He will be joined by Douglas J Mcarthy & Static Revenger.
Douglas J Mcarthy: http://www.douglasjmccarthy.com/
Static Revenger: http://www.staticrevenger.com/
Now in it's 3rd year, the annual holiday fundraiser supports two non profit music organizations & is always a special night.
What to expect:
No host bar featuring local wine, beer and liqour.
Amazing venue space: Sponsored by our good friends at Sonos, this year's event space has a a distinct warehouse feel and London vibe. You may think your are in the Tube once you arrive… Mind the gap!
Select art pieces curated by New Noise Music Foundation & friends
Silent Auction: Our silent auction items are always unique and rad. Really. We will have loads of both Martin Gore and other music oriented holiday gifts! Help us raise money for two great local music organizations, and give someone a killer present! It's a win/win!
Good times, Good Peeps: As always, we aim to help set the tone for a night of amazing night with firends new and old.
Light appetizers will also be served.
TICKET OPTIONS:
Meet & Greet with Martin Gore Pass: $100.00 (Very Limited # available)
– Entry to event
– MG signed limited edition poster of the event
– Group photo with Martin Gore
– Custom pass & lanyard for event
– 1st inside venue
– 1st look and bidding for silent auction items
– (2) free drink tickets
VIP TICKET: $50 (Limited # Available)
– Priority entry to event (front of line access)
– Limited edition signed poster of event
– (1) free drink tickets per pass
G/A Ticket: $30 (Limited # of tickets per tier. Please purchase early & often to ensure entry. Price will go up)
– General admission entry to event
There are no refunds, name changes or exhanges. All persons must be 21 years of age or older to enter. Please e mail any questions to: info@newnoisesb.com.
Thank you for your support & we look forward to hosting you for another great Holiday Party!