The guys from Black Light Odyssey have always been great to us here at HOME and when I found out they were playing in San Francisco supporting Cause & Effect… I had to go. Add to that I am a big C&E fan too, so I was really excited to see the show. I thought I would put up some pictures, videos, and thoughts from the show.
Cause & Effect with Black Light Odyessey
Thursday October 13th: Red Devil Lounge in San Francisco, CA.
It was a warm night in the city, perfect for walking around town. I met up with my buddy Hector to hang out and catch the show. Parking in that area of San Francisco is a nightmare, but I found a parking garage that was happy to hose me $20 for a spot. Eh… I was happy to get a spot and not be late, was worth it. We got into the Red Devil Lounge just after 8pm and Black Light Odyessey had already taken the stage and started DJing. Sadly only one half of BLO could make it, so Craig was flying solo on this one.
Craig from Black Light Odyssey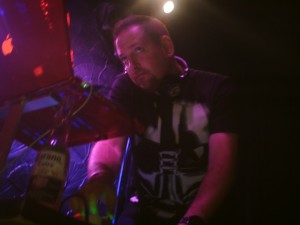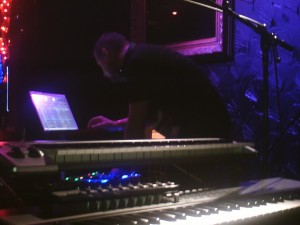 He played an amazing set that blended indie dance tracks with some chunky techno that was highlighted with the Black Light Odyssey remixes of  Depeche Mode's "Oh Well" and the new mix of "The Sun And The Rainfall".  The set lasted for just about two hours and really set the tone for the evening.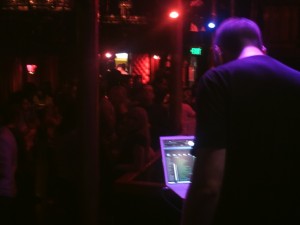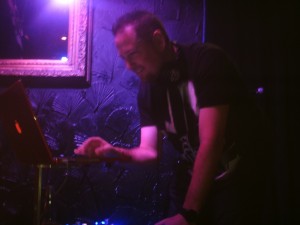 Craig ended his set with Depeche Mode's brand new cover of U2's "So Cruel" for the forthcoming Achtung Baby cover album. It sounded fantastic on a loud system and worked perfectly to wind things down to bring out Cause And Effect.
I forget what time it was, but I want to say that Cause And Effect took the stage at just around 10pm. I hadn't seen them play in a long time and this was their first show in about 8 years. They came out and opened their set with their new single "Happiness Is Alien" from Part 2 of the Artificial Construct series. Lead singer Robe Rowe jokingly referred to the audience as their "guinea pigs" as they self-admittedly shook off the nerves.
Rob Rowe and Keith Milo of Cause And Effect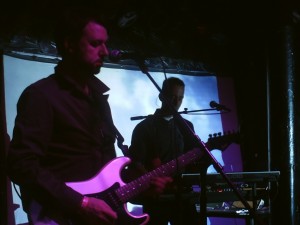 They looked and sounded fantastic and it was great to see them again! They played a great set list that spanned all their releases. Highlights for me were "Into The Light", "In Shakespeare's Garden", "What Do You See", "Sunrise", "This Is Who I Am", and of course "You Think You Know Her".  The classics had a nice updated treatment to them that I really enjoyed. And for the record, Rob has one of the most amazing voices in music!
Keith Milo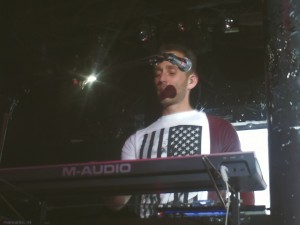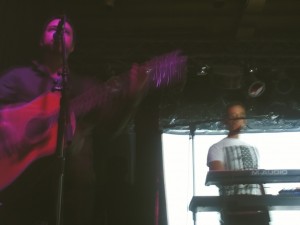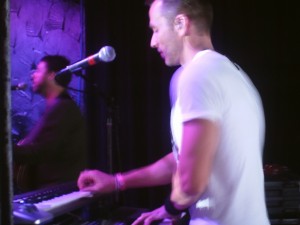 One part of the show I especially loved was when the backing screen during "This Is Who I Am" showed clips of Depeche Mode. It's an absolutely brilliant song and perhaps my favorite of their new songs. It references Morrissey, how could it not be great? Anyway, the chorus of the song goes "This is who I am, These posters on my wall, This is who I am, These things define my soul" and there was footage of someone flipping through a scrap book with pictures of DM in it as well a clip of someone in a Music For The Masses tour shirt that kept repeating as they performed the song. Morrissey also made it up there, so I loved that little nod they gave.
Was a great show and I highly recommend going to see them if they come to your town. They're playing some shows now in support of Artificial Construct, so be sure to check www.causeandeffect.com for updates. You won't be disappointed!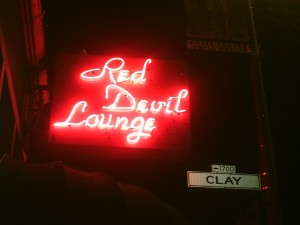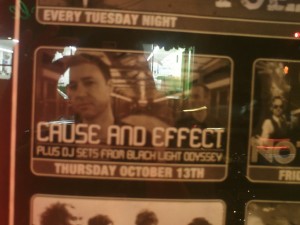 Hector giving Alison some love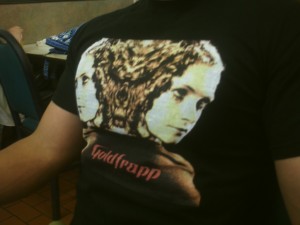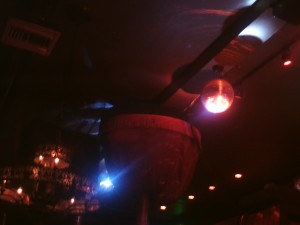 Pre show warm up donuts are a must!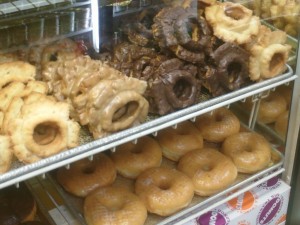 Here are a couple videos of the show I uploaded. I had a new camera, so the pics and videos aren't the greatest. I hope you enjoy them all the same. Sadly only a few of the videos came out well enough to post, but they do the show no justice. You'll have to forgive me and my inner teenage girl screams during the video, LOL.
Cause And Effect "Into The Light" Live in San Francisco 10/13/11
Cause & Effect What Do You See Live in San Francisco 10/13/11
For more info on Cause & Effect, please visit: www.causeandeffect.com
For more info on Black Light Odyssey, please visit them on Facebook